At Crabtree Agricultural Consulting, we organise regular, worldwide agricultural Study Tours. Join a group of like-minded and friendly Australian farmers as we explore technologies and agricultural developments in other parts of the world.
Notes on North America Study Tour 2004
A unique group of 44 embarked on a spectacular 8,000 km journey of North America. We consist of the usual and yet amazing array of fascinating people. Isn't nature wonderful? We are learning of the adventuresome Beeck's, the skilled yarns of Daniel Morgan, the keen mind of Bec Ifould, the politeness of John Doncon, the great people skills of Zoe Fulwood and the willingness of David Cook to pre-empt problems. Not to mention the great energy of Jim – our bus driver! When we eventually found him at the airport . . .
The people on tour, are listed below and in the order of their state. There are 23 from WA, 10 from SA, 7 from Vic and 4 from NSW. They are; Gavin and Jodie Beeck, Gordon and Sheryle Browne, Arlie and Robin Carter, Bill Crabtree, Bill and Maureen Dickson, Zoe Fulwood, Jeff and Mary Kelly, Bill and Janet Robinson, Roger and Charlotte Fletcher, Robert Jefferies, Peter Lynch, Rodney Allen, Brad Starcevich, John Doncon, Joe and Charlotte Della Vedova, Andrew and Annette Cass, Alistair and Bec Ifould, Daniel Morgan, Paul Simmons, Clinton Tiller, Nigel Wilhelm, Neville and Debbie Will, Paul Anderson, Greg and Carolyn Gason, Mark and Leiticia Harmer, John Alexander, David Cook, Jim Laycock, Graeme Mason and Peter and Nelke Wiencke. Most of us put a mark on a map (see below) while in Texas.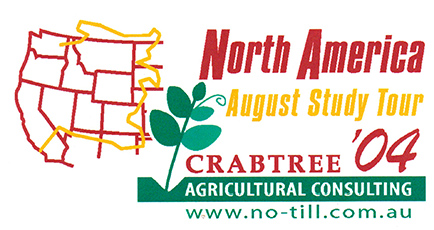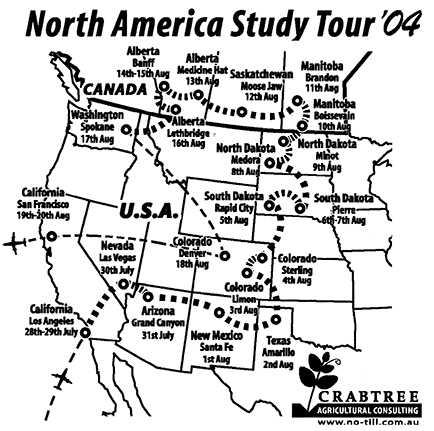 At Crabtree Agricultural Consulting, we:
Bill is well networked with: